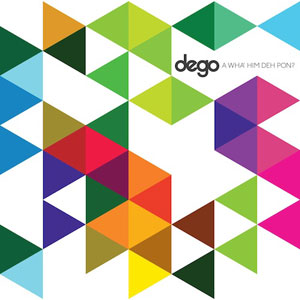 The highlight of this weeks podcast is Dego's debut solo production titled "A Wha' Him Deh Pon"… I must say, it's been a while a since I've uploaded a full album to my mp3 player… from start to finish, the music is exceptionally good; catchy lyrics, funky bass lines, glitchy retro synth sounds and a whole lot of jazz bizness… in my opinion the engineering on the album is phenomenal as well… every sound is so clear and well defined… easy on the ears, it's good to take a break from all that heavily distorted music out there… definitely a good buy, though I wish it came out on vinyl as well!
Also in this weeks podcast, music from SBTRKT, the new album is out on Young Turks… music from Owiny Sigoma Band, the Quantic remix of Doyoi Nyajo Nam is heavy… a little bit of old school flavour from Falty DL, and a fantastic Caribou remix.
Oh by the way, I also started doing these short series of podcasts every Sunday (posting it on the Monday) called the "weekly five", depending on my mood on the day, I select five tunes out of my record collection… predominately the selections will be old music, music that has influenced me… so check'em out if you can.
Thanks for listening,
Cengiz
Tracks –
SBTRKT – Ready Set Loop / Young Turks
Dego – Pushing You to Begin ft. Ferraz / 2000 black
Fatima – Red light / Eglo
Moodymann – Don't You Want My Love / Peacefrong Records
Herbie Hancock – Don't hold It In / Columbia
Sunlightsquare – O Mi Shango / Sunlightsquare Records
Owiny Sigoma Band – Doyoi Nyajo Nam (Quantic Remix) / Brownswood
Dego – Late Night Fright / 2000 black
Dego – Love & Hate You ft. Obenewa / 2000 black
Cavalier (aka Agnès) – Kaimanawa / Drumpoet Community
Falty DL – Make It Difficult / All City
Roman Lindau – Avide / Fachwerk
Red Rack Em – Courting / Bergerac
Virgo Four – It's A Crime (Caribou Remix) / Rush Hour
Frederic Robinson – Mood Swings / Brownswood
Podcast: Download