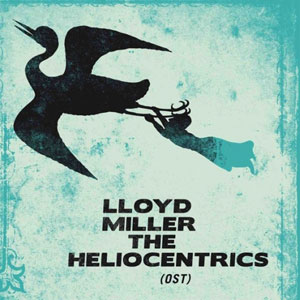 I've been extremely lazy and missed a few podcasts… my apologies to the fans, other things needed taking care of. It seems like there isn't enough time for anything these days… Anyways, the new edition is complete and I have some great music for you this week.
The recently released Llyod Miller & The Heliocentrics album made quite an impact on me… I bought the LP and it is truly fantastic. I featured a few of my favourites from the album in this weeks podcast. So what else, well after a long long time, I finally went proper record shopping, meaning I turned off my computer, got off my ass and went down to a record store. I must say it was great to be back… I picked up some proper gems during my shopping trip, including this fantastic compilation back from the 70s called "Jazz In A Penthouse"… watch out for the Nat Adderley track titled St. M, some great jazz bizness I say. Also to watch out for… absolutely loving the Fela Kuti cover from the Hypnotic Brass Ensemble, their recent EP is quite promising… Andreya Triana's latest single sounding good and loving that Natual Self remix by Yult…
I've got loads more in this weeks show, including some heavy danceable tunageeeee! So don't forget to check out the podcast. But just before I go, I thought I share this one final thing with you since it resulted in me posting this podcast today instead of yesterday. So my friend Lebby sends me a facebok msj 7 o'clock in the morning, telling me that we're going to the "Boiler Room" gig hosted by the bpm… linkage > http://www.readplatform.com/boiler-room-21-livin-proof-special-whudson-mohawke-rags-khalil-budgie-snips/ so it works like this; warehouse > the boiler room > dj setup > bunch of djs > bunch of people dancing the tunes > all recorded on a web cam… Anyways, Hudson Mohawke was one of the special guests, and I can say I got a decent dosage of good hiphop last night… Big up the bpm for putting this together. Definitely worth going down to the boiler room nights, great guest djs accompanied by fantastic music!
Tracks –
Lloyd Miller & The Heliocentrics – Salendro
Natural Self feat Elodie Rama – The Shock You Heard (YULTs Sub Rmx)
Conquest & Harry Craze – West Kebab
Andreya Triana – A Town Called Obsolete
Hypnotic Brass Ensemble – Water
Bobby Jackson – Yakumba
Nat Adderley – St. M
D.ablo – My Girl
Jay Dee – Think Twice
Pirahnahead & Clara Hill – Badly (Simbad's Motorcity Rmx)
Livio Roby – Sunday Offend
Matthew Burton – Natural Attraction (Jay Shepheard Rmx)
Kid Audio – Okami (Original Mix)
Lloyd Miller & The Heliocentrics – Lloyd's Diatribe
Lloyd Miller & The Heliocentrics – Chahargah
Faltydl – Phreqaflex
Wax – Dub Shed (Panamax Rmx)
Conquest & Harry Craze – Mohagany
Podcast: Download