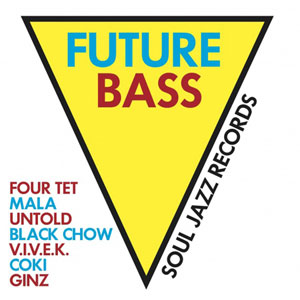 In this weeks edition, I featured a few of my favourites from the newly released Soul Jazz Compilation titled Future Bass. The compilation includes some quality dub step music from the likes of Mala, Untold, Hary Craze and Ramadanman. If you're into your dubstep, definitely a must buy.
Also to watch out for; Izzi Dunn, "Nothing But Love", Bugz In The Attic on the remix, definitely bringing back some memories from the broken beat days… Loving that jazzy cut from the Finnish Big Band Jazz… heavy dance floor tunage from Tonny Lionni on Freesytle Records… and a big tune from Red Rack'Em titled Pressure. Red Rack'Em has just released his debut album, and I believe the launch party will be taking place in Phonica records this Saturday. [ Click for the event page ] Hoping to play some of the album material in the next edition of best of all worlds…
Until then, enjoy the podcast and don't forget to leave comments if you like what you hearing.
Tracks –
Mop Mop – African Freedom (Jazzinvaders Rmx)
Mala – Don't Let Me Go
Maddslinky ft. Omar – Special (Chimpo Rmx)
Harry Craze – Gone
Martin Laksberg_Rasmus Lill – U Morga
Finnish Big Band Jazz – No Comments (TG Edit)
Herbie Mann – The Letter
Izzi Dunn – Nothing But Love (Bugz In The Attic Rmx)
T Roy ft. Wunmi – Bo Bo
Altered Natives – A History Of Silence
Red Rack'Em – Pressure
Tony Lionni – Always There
Alison David – Dreams (Zed Bias dub mix)
Speedometer – Lover
Nash Reed – Saying Less
Black Chow – Air
Podcast: Download