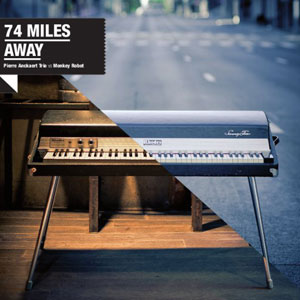 This podcast was actually ready to go online last Thursday, but the cold weather in London finally got the best of me, and I got a bad case of the flu. I've spent the last 4 days in bed watching mostly day time TV! So apologize for the delay.
Started this weeks edition with a current favourite of mine, 74 Miles Away, track titled "Same Dream Again"… result of a fantastic collaboration project between Belgian jazz pianist Pierre Anckaert, and the producer collective Monkey Robot. Apparently the inspiration for this project was the "Fender Rhodes", enough said, cannot wait for the album. "Same Dream Again" features Ahu and Milles Bonny on the vocals and will be available for purchase in January as a apart of a Brownswood compilation titled Wordlwide Family Vol.1 The album will drop on Melting Pot records in February next year. So get involved!
Also in this weeks edition, music from Finn Peters, Henrik Schwarz, Martin, The SimonSound, Electric Wire Hustle, Mount Kimbie and James Blake.
Thanks for listening,
Cengiz
Tracks –
74 Miles Away ft Ahu & Miles Bonny – Same Dream Again
Grooveman Spot – Happy feat Kissy Asplund
Ladi6 – Dark Brown
Finn Peters – Agitation
Marsmobil – Gonna Be My Day (Henrik Schwarz Acoustronic Rmx)
Jtothec – Getta 2 Getta
Martyn – Left Hander
The Simonsound – It's 1984 On Mars
Renegades of Jazz – Karabine (Original Mix)
Electric Wire Hustle – Again (Scratch 22 Remix)
Rikki Ililonga & Musi-O-Tunya – Walk and Fight
Mount Kimbie – William (Dayglo Mix)
Pearson Sound – Blue Eyes
Truth – International
James Blake – Limit to Your Love
Podcast: Download