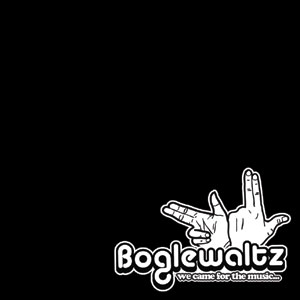 It's definitely been a while since the last podcast, apologies for the delay… had a few extremely busy weeks and to top it up, had to move house. But nevertheless, here is the latest podcast covering the usual wide spectrum of music.
If you're living in London, and you're into good, across the border music, you must have heard of the legendary Boglewaltz Tropical Garden Parties that take place mainly in the summer time. The crew who threw those fantastic parties decided to take it to the the next level by putting a compilation together which features some of the artists and producers who performed at these magical parties over the years… There is some fantastic cuts on the album, including new music from lesser known upcoming artists as well as some established acts such as the Sound Species, Kay Suziki and Guynamite… Definitely a good buy. I think only available through bandcamp [http://boglewaltz.bandcamp.com/album/boglewaltz-we-came-for-the-music]. Launch party is on the 15th of April, at "The New Empowering Church".
Also in this weeks podcast, new music from Dotmatic, I'm loving the "It Yours" EP… Hummin' in the sun with Roy Ayers, interesting bit of hiphop music from Jazzy Sport, more music from the 74 Miles Away project, soul funk business from Cathy Edgar, and a fantastic Floating Points remix on Ninja Tunes.
As usual, loads and loads more, so tune in if you can.
Thanks for listening,
Cengiz
Tracks –
Quantic His Combo Barbaro – Undelivered Letter (Daedelus Remix) / Tru-Thoughts
Edu Lobo – Upa Neguinho / Elenco Records
Marley Marl – Hummin' feat Roy Ayers_Edwin Birdsong / BBE
Sick Team – Stay Strong / Jazzy Sport Japan
Dotmatic – The Night On Fire / Record Breakin' US
Morgan Zarate – Satin White / Boglewaltz
Dekata Project – My People (Greymatter Remix) / Exceptional Blue
Sonarpilot – Osaka (Unreleased Simbad Dub Mix) / Sonarpilot Audio
Breakplus – Start Boglin' / Boglewaltz
Pierre Anckaert Trio – Chromeface / Melting Pot Germany
Patrice Rushen – Puttered Bopcorn / Prestige Records
Cathy Edgar – Soul Sister / Imagenes
Soundspecies – Balafon Jam / Boglewaltz
Mizz Beats – The Day Before Tomorrow / Eglo
Daedelus – Tailor Made (Floating Points Remix) / Ninja Tune
Chrissy Murderbot – Braaain / Planet Mu
Podcast: Download