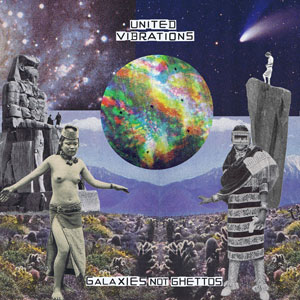 A beautiful day in London, it's 26 degrees out there, it was about time we got some proper sun in this country… I'm definitely hitting the park in a bit, though just thought I'll post the latest best of all worlds podcast before I do so.
The highlight of this weeks podcast is the debut album from United Vibrations. I saw these guys for the first time at the Creative Control Coalition launch party, that took place back while ago at The New Empowering Church. I was totally blown away from their performance, so much energy… I actually have some footage of their performance some where on my laptop. Maybe I'll post some of it later on. In my opinion the 4 piece band is equally good on the album as they are live. The music is a mixture of creative bit of jazz and funk, and the band definitely draws a lot of influences from Afro-beat music, especially in the rhythm section. I guess nothing more to say apart from, "you need to buy this album" and support this upcoming great British band.
Also in this weeks podcast, new music from Mark de Clive-Lowe, the 5 track Leaving This Planet EP is out… he has collaborated with some very talented vocalists, I believe a new album is in the horizon, so more on that in the next edition, but if you can't wait till then, you can purchase the EP from Mark's band camp site… new Azymuth on Far Out Records, I haven't managed to listen to the whole Aurora album yet, so instead of featuring it this weeks podcast, I gave you a little taster. Freerange have been putting out some fantastic bits of house music within the last few months… recently purchased some of their current releases, so expect some quality deep house music in this weeks podcast as well.
Thanks for listening,
Cengiz
Tracks –
AGQ – Pulsemuzik feat. Wildelux / Digi Crates
Mark de Clive-Lowe – Dreams feat. Bembe Segue / mashibeats
Azymuth – Carnival Le Grande / Far Out
Quarteto Em Cy – Amoralina / Elenco Records
Red Astaire – Whatcha Do / GAMM
Will I Am – Money / BBE
Marley Marl – NY, NY / BBE
Dotmatic – Hi / Record Breakin' US
Hidden Orchestra – The Burning Circle / Tru-Thoughts
Jimpster – Inside The Loop / Freerange
Lovebirds – My Man (KiNK Remix) / Freerange
Manuel Tur feat. Holly Backler – Most Of This Moment (Isoloe Mix) / Freerange
Makam – You Might (Kerri Chandler Remix) / UTC Limited
United Vibrations – No Space No Time / 12 Tone
United Vibrations – Circle / 12 Tone
Mizz Beats – Sanctuary / Eglo
Untold – Sweat / Hyperdub
Podcast: Download