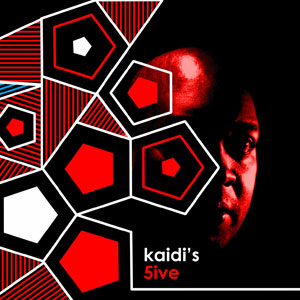 Unfortunately lately I've been a little lazy with my podcasts… but no matter, back on track and here is number 32! This week I've decided to feature a few of my favourites from the latest Kaidi Tatham project titled "kaidi's 5five". This mini album is fantastic; moog bass lines, the sounds of rhodes piano and a touch of the 80's… simply all the good stuff. Anybody who is into the whole broken beat / nu jazz experimental sound will love this album. I believe it's Kaidi Tatham's first lengthy project since 2008 as well, so big thanks to the jazz re:freshed crew for making this album happen.
Here is some footage from the album launch party at Mau Mau bar in Notting Hill…
https://www.youtube.com/watch?v=wQmyCFRD1Vs&feature=player_embedded#!
Also in the weeks podcast, music from Paul White, his new album is out now on One Handed, music from Ben Westbeech, that Revenge dub is wicked, a track from the new Thundercat album, and a fantastic D'Angelo cover from the Heartbreak crew…
Thanks for listening,
Cengiz
Tracks –
Kaidi Tatham – Don't hide your love / jazz re:freshed
Carlos Nino & Miguel Atwood-Ferguson – Into Eternity / Tokyo Dawn
M.E.D. feat. Hodgy Beats – Outta Control (Prod. by Madlib) / Stones Throw
Paul White – Stampeding Elephants (feat Moe Pope) / One Handed
Thundercat – It Really Doesn't Matter to You / Brainfeeder
Ben Westbeech – Something For The Weekend (The Revenge Keep Up dub) / Strictly Rhythm
David Borsu – Closer / Broadcite
Harold Heath – Mescalito / Lost My Dog
Zed Bias feat. Jenna G & Rosco Trim – Fairplay / Tru-Thoughts
Kerri Chandler – We Are Here (Kaoz Stressin' Me Mix) / Madhouse US
Heartbreak Sound – Brown Sugar (feat Angelo) / GAMM
Dotmatic feat. I Ced & Stopha Vasquez – One Two Love / Record Breakin US
The Stepkids – Legend In My Own Mind / Stones Throw
Kaidi Tatham – For all the love in time / jazz re:freshed
Paul Murphy – Withnail & I / Afro Art
Podcast: Download